Green and White Paper Covered Floral Wire, 24 Gauge, 22 Gauge, #26
Typical products: White paper covered 22g or 24g floral wire
Paper covered floral wire by coil 22 gauge
#26 green paper covered steel floral wire
White paper covered wire - 26 gauge for florist wire, rust proof and corrosion proof.
Colors available for paper covered wire: Green, white, metallic silver, metallic red, metallic silver or metallic green colors.

Paper Covered Wires Exported to Indonesia, India and uS
Florist wires wrapped in green/white crepe paper for Indonesia
BWG#20, wrapped in green paper
BWG#22, wrapped in green paper
BWG#24, wrapped in green paper
BWG#26, wrapped in green paper
BWG#28, wrapped in green paper
BWG#26, wrapped in white paper
Inner Wires: low carbon steel wires
Length: in 36cm

Green crepe paper wrapped florist wires, 22 gauge, wire for artificial flower stems, cut in bundles
Artificial Flower Wire, Paper Covered, for Floral Stems Making, for US
Material: cutton paper and galvanized wire
Surface treatment: cutton paper covered
Wire diameter: 16ga-30ga: 16ga, 18ga, 20ga, 22ga, 24ga, 26ga, 28ga, 30ga.
Colors available: Dark green, light green, white, brown, more options.
Length: 20-60cm: commonly 20cm, 30cm, 36cm, 46cm
Features: Bright color, easy for carrying and use.

Paper Coated Florist Wire, Cut to Size, for Christmas Crafts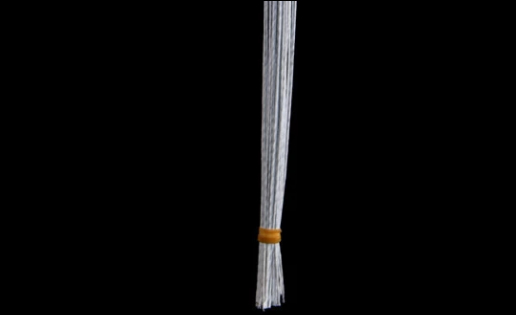 14 Inch 18 Gauge White cotton paper covered stem wire, cut to length wire
Paper Covered Steel wire for India:
Paper covered wires of 18gg, 16gg, 20gg, 22gg, 24gg ,26gg.
Paper Covered/ Winded Floral Wire by Coils -
Colors and Gauges:

Green Paper Covered Steel Wires, 26gauge

Paper Covered Steel Wire, White 26gauge

Green Paper Covered, 22gauge

White Paper Covered, 22gauge

Metallic Gold Paper Covered Wire, 26gauge

Metallic Red Paper Covered Wire, 26gauge

Metallic Silver, 26gauge

Metallic Green Paper Covered Wire, 26gauge
Paper Covered Iron Wire, Cut to Sizes - Colors and Gauges

Paper Covered Cut Wire - Painted Green, 18gauge

White Color, 18gauge