Typical Product: 100g floral wire on stick, 24 gauge, green color
Wires around sticks are important forms of garden wires with easy uses.
Detail information in regard to Floral Wires on Sticks
Wire diameter: 0.2-0.9mm in metric unit
Wire gauges: SWG 30, SWG29, SWG28, SWG27, SWG26, SWG25, SWG24, SWG23, SWG22, SWG21
Colors available: Red, green, black, purple, blue, more
Features: Bright color, for easy carring and easy tying
Application: Floral tying wire, for Christmas gifts making and tying.
Wire materials: Mild steel wire, annealed and galvanized
Surface treatment: lacquered / enameled / coated
Unit Weight: 50g/pc;100g/pc
Package:20pcs/plastic bag,10bags/carton ,5pc/box; 10boxes/carton.
Popular Sizes:

0.63mm 100g green floral wire wrapped in wooden stick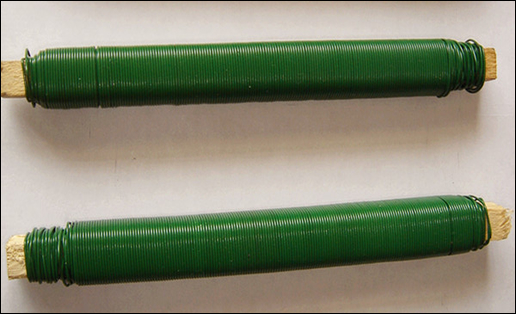 0.65mm Green LacqueredWire for Flower Tying, Packed On Wooden Sticks

100g floral wire on stick, 24 gauge, dark green color.
Lacquered Colors Available:
Lacquered wire in various colors, on wooden roll for florists and crafts: gold, blue, red and more
Packings: